Spa roads of Serbia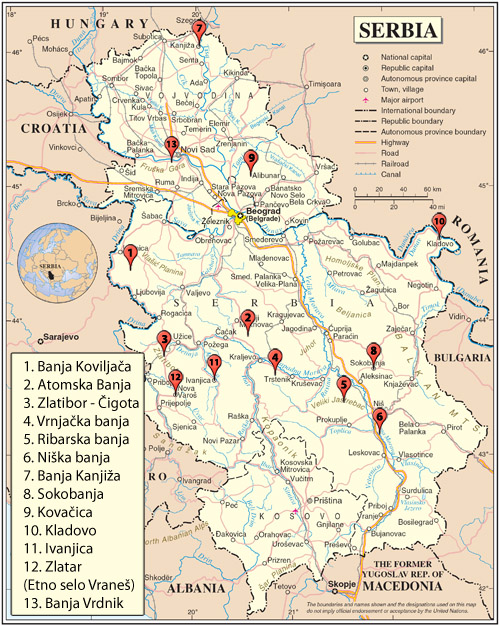 Rich history of Serbian spa healing procedures is documented not only by old picture postcards and photos from private and public archives but from various documents, records and books confirming, water is source of life and as such it remains the most valuable natural resort.
Visit Spas in Serbia now at presence
In front of you are roads of Serbian Spas, which can be of various natures: wellness, healing procedures and touristic trips. All of these can be combined to suite your specific needs and demands.
Roman Emperor's Spa Road: Spa Resort Nis (Niska Banja), Gamzigrad Spa (Gamzigradska Banja)
Serbian Royal Spa Road: Spa Vranjska (Vranjska banja) and SpaBrestovacka (Brestovacka Banja)
Prince Milos's Spa Road: Sokobanja Spa
King Peter's Spa Road: Koviljaca Spa (Banja Koviljaca), Spa Ribarska (Ribarska banja)
Modern Serbian Spa Road: Vrnjacka Spa (Vrnjacka Banja)
Serbian Soldier Spa Road: Sijerinska Spa (Sijerinska Banja)
My Grand Pa's Spa Road: Spa Rusanda (Banja Rusanda), Spa Old Slankamen (Banja Stari Slankamen)
My grand Ma's Spa Road: Spa Vrdnik ( Banja Vrdnik)
Monastery Spa Road: Spa Ovcar (Ovcar Banja)
Turkish Sultan's Spa Road: Spa Novi Pazar (Novopazarska banja). Spa Nis (Niska banja), Belgrade
Vetovac Spa Road: Spa Badanja (Banja Badanja), Spa Vranje (Vranjska Banja), Vrnjacka Spa (Vrnjacka banja)
Belgrade Spa Road: Spa Bukovcka(Bukovacka banja), Spa Selters (Selters Banja)
Clean Air Spa Road: Unique in Serbia – Air Spas: Ivanjica, Divcibare, Zlatibor
Roads of Spas of Vojvodina: Palic spa (Banja Palic), Spa Kanjiza (Banja Kanjiza), Spa Vrdnik (Banja Vrdnik), Spa Rusanda (Banja Rusanda), Spa Old Slankamen (Banja Stari Slankamen)
Spa road of National Spas: Spa Zvonacka (Zvonacka Banja), Spa Zdrelo (Banja Zdrelo)
Unorthodox Spas Road: Visnjckaspa (Visnjicka Banja)
Cruising Serbian Spa Road:
---
Western Serbia Spa Roads: Spa Koviljaca (Banja Koviljaca), Spa Priboj (Pribojska Banja)
Eastern Serbia Spa Roads: Spa Brestovacka (Brestovacka Banja), Spa Zvonacka(Zvonacka Banja),Spa Sokobanja (Sokobanja), Spa Gamzigrad (Gamzigradska Banja)
Sothern Serbia Spa Road: Niska spa (Niska Banja), Lukovska spa (Lukovska banja), Spa Prolom(Prolom banja), Kursumlijskaspa (Kursumlijska Banja), Sijerinska spa (Sijerinska Banja), Novopazarska spa (Novopazarska Banja), Vranjska spa (Vranjska Banja), Bujanovacka spa (Bujanovacka Banja)
Nothern Serbia Spa Road: Palic spa, SpaJunakovic (Banja Junakovic), Spa Kanjiza (Banja Kanjiza)
As per your request Spa Roads of Serbia can be:
Tourist Spa Spa for Preventive Medical Procedures Spa for Medical Indications (Healing)